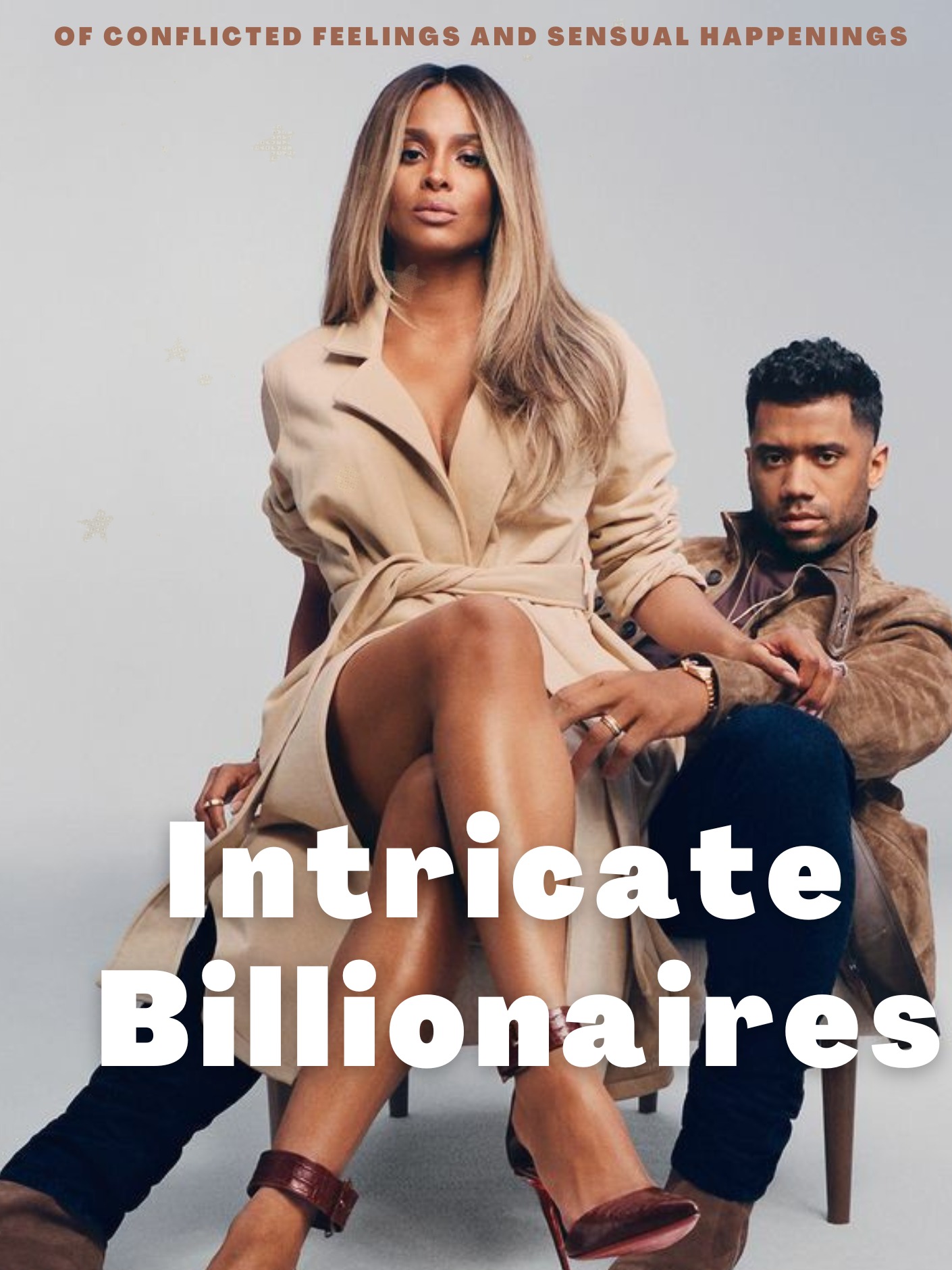 Intricate Billionaires
Theinkedwriter

5.3K words
ongoing
16+
0
7.5
Due to her father's promiscuous ways which led to their bankruptcy, Elzer Marks has to get married to the CEO of Leeds Semiconductor. A young, attractive man that has both looks, money and power. It began with a blind date where they both met and got to know each other. There were a whole lot of differences in their personalities but they had two things in common. Which is wealth and scarred hearts. There a lot of difficulties they have to fight through as they gradually fall in love. And they say that love conquers all, right? ~A Stand Alone Book~
Billionaire
Boss / CEO
Possessive
Powerful Couple
Arranged marriage
Revenge
Fated Love
BxG
Office
Sweet
Twisted
Wealthy
Romance
Chapter 1
The car halted in front of Gõut de paradis and Elzer took in a deep breathe as she reached for her snazzy sunglasses that was accentuated with copper studs. Putting it on, she looked at the rare mirror with a strained smile on her, noting how sleek she looked.
The driver had gotten off from the car, moving quickly to her side to open the door for her.
First, her high heeled lace-up shoe with beads and sequins that have it a frilly appearance, was the first to be seen as she made effort to get down from the car. And when she finally did, her short poofy skirt with an empire waist and elbow length wide sleeves made from orange and turquoise fabrics took all the attention as it fit her body so perfectly.
The driver stared a bit longer at her, as though he hadn't seen her earlier on it, before bowing slightly and speaking.
"Your father texted me on the way that you should go home straight after the date with Mr Brown."
Elzer scoffed in annoyance. "I have no idea of what you're talking about. Wherever I go from here is definitely not his business."
Grabbing her clutch, she slammed the door shut and glared so hard at the middle aged man that he cautiously took a step backward.
Elzer walked through the entrance door of Gõut de paradis and paused briefly, looking around. There weren't much people here so it would be easy to find him.
Earlier this morning, he had texted her, giving brief details of his outfit for easy recognition. She did the same but ended up wearing something else at the last minute.
Her russet eyes darted towards a corner of the restaurant and sighted the man she was here for, in a totally different outfit, as well. He was the famous son of Daniel Brown, so it was no wonder how she quickly recognized him even when his head was slightly bent as he typed away on his tablet.
Elzer sighed and walked towards his direction, crossing her long legs as she sat down opposite him, then dropped her clutch on the table. Yet, the pale skinned man didn't look up from his tablet for once.
Elzer was so riled up that she wanted to stand up and leave but she knew better than doing so. Her father's business and family's reputation were along the line. And little mistakes could worsen the situation at hand.
She turned and waved towards one of the waiters to come over and take her order. And it took nothing less than a few seconds before a tall, blonde waiter was at their table with a notepad and pen.
"A plate of Chinese rice, Lobster Frittata, chicken tortilla pinwheels and a bottle of Chateau Margaux wine; for myself." Madison said to the waiter.
Just then, Stephen raised his head, a bit perplexed when he saw Elzer sitting opposite him and giving her orders to the waiter. He guessed that, he must have been too engrossed in the document he was reviewing to have known when she arrived.
"Do you want anything for yourself, Sir?" The blonde waiter darted his eyes towards him and asked.
Stephen nodded.
"Everything she ordered."
Once the waiter had left to process the orders, Elzer couldn't help but scoff. She did a good job, resisting the urge to roll her eyes when Stephen tapped his tablet screen a few more times, before dropping it on the table.
"The name is Stephen Brown of Leeds Semiconductors." He introduced himself, bringing out his business card from his tux pocket.
"I had no idea of when you arrived. And I should apologize for that." He continued, staring briefly at her.
Meanwhile Elzer narrowed her eyes as she searched through her clutch for her business card. Just when she thought she had forgotten it, she found it in the inner pocket of the clutch.
"Elzer Marks of Marks Building Company." She pushed the card towards him and took his business card, giving it a little scrutiny before putting it inside her clutch.
"An apology isn't necessary, Stephen. While you were lost in your world, I helped myself with an order." She shrugged, placing the clutch on the table.
The waiter was already back and he smiled warmly at them as he placed their food on the table. But Elzer could tell that the smile was plastic cause she too shot people a thousand lots of plastic smiles.
She took a spoon of the Chinese rice and moaned in satisfaction. Ariana- her best friend would have loved to eat this together with her. Taking another spoonful, she made a mental note to buy some while leaving the restaurant.
Stephen cleared his throat as his hand firmly gripped the spoon he was holding. He raised his eyes to stare once more at Elzer who didn't take note of him and was rather, engrossed in the food before her.
When she had moaned, he couldn't help but get a little distracted. And that was when he finally took note of her appearance, as he stared at her.
She was ivory skinned with long straight, brown hair. Her average sized, russet eyes were fixed on her plate of Chinese rice and her build was somewhat thin.
Stephen had a thing for women with short, bob hair. He always found them cute. But this lady before him was extremely attractive even in her long straight hair and it made him gulp.
It was more difficult now that he found her good looking as he had planned not get married but focus solely on his work. He needed more money not women nor orgasms.
"Why don't you tell me a few things about yourself, Miss Marks?" He asked, finally taking a spoon of the food before him.
He wanted to know how good the Chinese rice was, that made Elzer to moan the way she did. But when he took it, his nose scrunched up in distate and he cast her a look, wondering what she saw in the food.
Cause for all he knew, this was so far the worst Chinese rice he has ever eaten.
He dropped the spoon and went for the Lobster Frittata. It had to be good, he told himself, same time Elzer began speaking.
"I have zero ideas of why you're looking at me that way as you ate your Chinese rice but I'll proceed to answer your initial question." She said, helping herself with a glass of her wine.
"There's nothing much to know about me other than the fact that I'm the first child of Andrew Marks. The manager of one of his branches here in Boston. And . . . I love touring and shopping." She finished with a shrug.
Steve noticed that she was a smart woman. Or rather, she had that aura. It would take some time for him to really know the sort of woman she was.
"Well, I'm the successor of Leeds Semiconductors. And I have zero time for frivolities as I'm really dedicated to my business. I find you charming, though." He stated, eating from his plate of Lobster Frittata.
Rumors always had it that Stephen was a rude, nonchalant billionare who cared about nothing but women and was indeed lucky, to be the successor of Leeds Semiconductors.
But the man sitting opposite her right seemed to be nothing of that sort. He didn't seem rude nor nonchalant. Rather reserved and tactful. If what he had initially uttered was true, then people must have mistaken his love for his business for something else. And could she add, he was quite attractive and hot.
His mid-length, curly, dull- blond hair gave him a different look from other CEOs she had come across. And his large green eyes seemed to tell her things his eyes didn't. He was pretty tall but lean which was the only thing that didn't pull her, so much.
Knowing she was quite on the slim side, she always fantasized over having a huge, drool-worthy man. It strangely made her feel like she was protected rather than intimated.
"I'll take that as a compliment, Mr Brown." Elzer retorted, staring at the Chinese food he seemed to leave out as he ate the Lobster Frittata and chicken tortilla pinwheels.
For unknown reasons, she felt a bit offended. Her mind flashed back to the moment he first took a spoon and had his nose scrunched up in utter distate. She cast him a look and couldn't resist the overwhelming urge to speak out about her observation which was in no way meant to be her stress.
Well, this was Chinese rice for goodness sake. She would keep shut even if he didn't lay a finger on the Lobster Frittata or typed away on his tablet instead of trying to get to know her. But this wasn't the case and all blames should be on Ariana who got her so freaking obsessed with Chinese rice.
"You seem not to like the rice?" She faked a small smile as she questioned him.
Stephen huffed, glancing at his plate of Chinese rice. "It's really tasty and orgasmic that I think I'm already obsessed."
Elzer scowled at him and finally rolled her eyes as she cued his sarcasm. "I don't like you." She blurted out without thinking.
"Well, there are still four weeks for you to fall in love with me, before our wedding." Stephen shrugged.
Elzer looked at him, mortified. Her lips parted to speak but words wouldn't flow out.
"Don't be ridiculous, Stephen. No one is falling in love with anyone." She finally stated, refilling her glass of wine and gripping it so tight as she gulped half of its content down, at a go.
"Well," Stephen chuckled darkly. "I'll advice you not to be so sure."
CONTINUE READING IN THE APP
Install App
Read novels from various genres