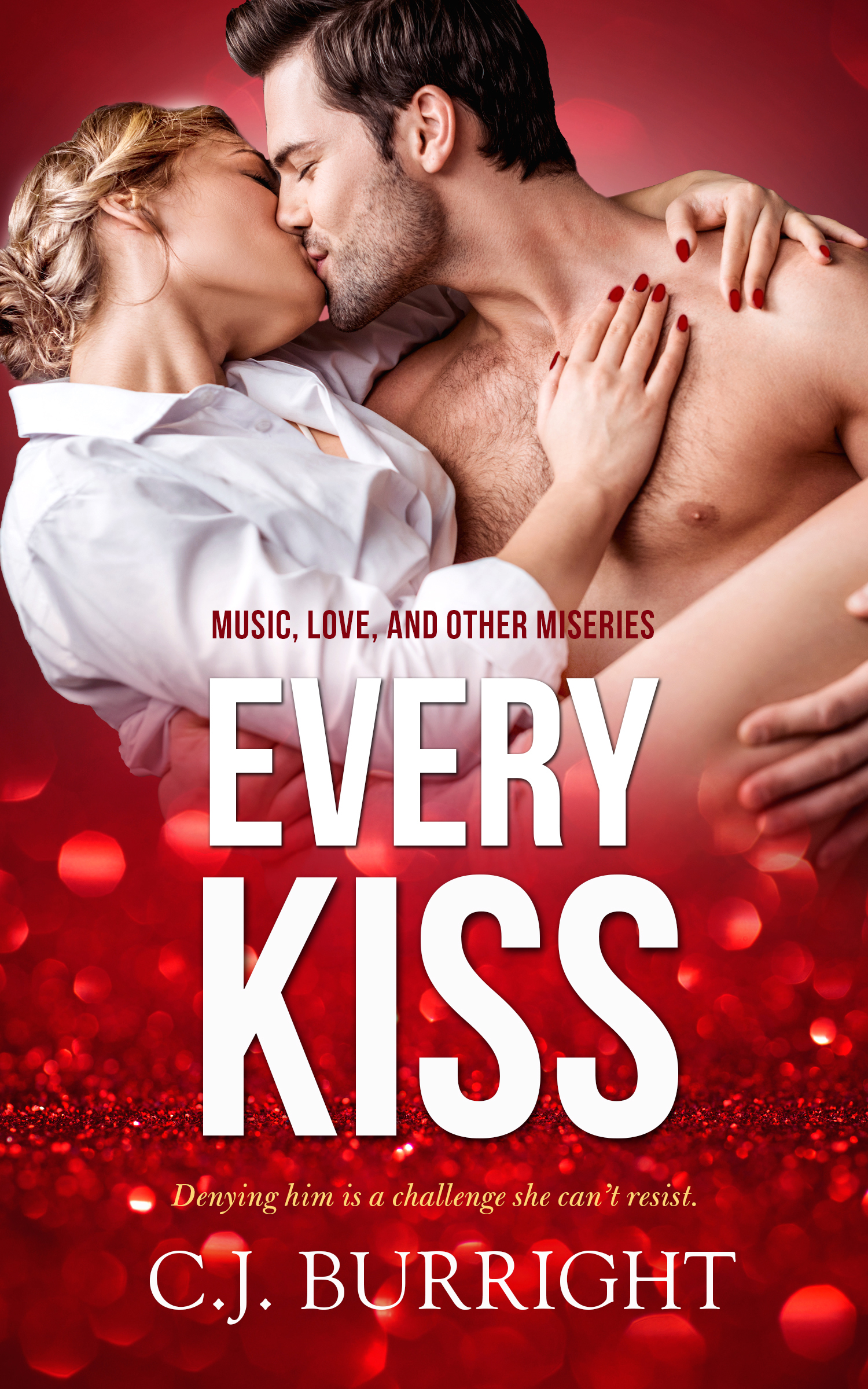 Every Kiss
C.J. Burright

22.2K words
complete
18+
10185
7.97
Six months ago, Gia lost the love of her life—and the spark that earned her the nickname 'Glitter Girl'. When Christmas rolls near, along with her office-decorating duties and the traditional hiding of mistletoe for the underground holiday kissing bets, she puts on her happy face and pretends she isn't slowly suffocating. But when cocky lawyer and resident eye-candy Ian bets that she's the one who will be kissing him beneath the mistletoe, Gia places a bet of her own. No way, no how will she lock lips with Ian. Ian O'Connor refuses to lose, whether in the courtroom, the bedroom or a bet concerning mistletoe kisses. From the day Gia walked into his law firm, she has haunted his fantasies with her blood-heating stilettos and sunshine smile. Now that she's single again, he'll do anything to eliminate his unhealthy fascination for her—a luxury he can't afford without exposing his troubled past. But as their battle—and their chemistry—grow in intensity, both Gia and Ian may discover there's an even greater risk than losing a bet when surrendering to a kiss beneath the mistletoe.
Businessman
Coolguy
Love at First Sight
Crush
Sweet Love
Twisted
Erotic
Romance
Chapter 1
It was raining glitter inside Gia's office. Red and green glimmered on the file she'd been staring blankly at for the last ten minutes, lost down the misery rabbit hole.
She leaned back in her chair and tilted her chin up, lifting her gaze to the source of the glitter cloud—Karen, her co-worker, keeper of all office gossip and her closest friend at Hamilton & Associates, the best law firm in Graywood, offering small-town representation, big-city quality and monumental prices.
"I figured something sparkly would get your attention, Glitter Girl." Karen grinned down at her and sprinkled the last of the glitter from her palm onto Gia's head. "Since no one else volunteered this year, I need help with the Christmas decorations." The words held a teasing accusation, but the scratchy tinsel garland Karen draped around Gia's neck felt like a threat.
Since landing her job at Hamilton & Associates two years earlier, when Valentine's Day had passed without any change in the posh—and yawn-worthy—décor, Gia had appointed herself the interior festivities coordinator and celebrated every season and major holiday with colorful decorations. When she'd skipped Halloween this year, no one had protested. Apparently, her grieving period was no longer being tolerated and Christmas wasn't going to pass by without her.
Even though she wished it would.
Gia pasted on a smile and hoped it looked real. "Only if I get to hang the mistletoe in strategic places."
"I was counting on it." Karen wrapped a shimmering green garland around her slender throat and twirled the end like a bristling boa. "I can't wait to watch Lisette trap O'Connor by the copy machine and watch how he slithers his way out of a real kiss."
For a second, her smile felt less plastic. The entire office took bets every year on how many times Lisette—the secretary who was nearly as old as the firm itself—would trap Ian O'Connor beneath the mistletoe. Since Ian had a one-night-only rule that he applied to women and never broke, it was fun to witness Lisette take up the challenge and beat him…at least as far as kisses went. Gia did her part by planting mistletoe in unexpected, unobtrusive locations and discreetly leaving Lisette a map.
Maybe watching someone else find a little romance would erase the shadow still clinging to her heart. Gia stood and straightened her black pencil skirt. Her pink cashmere sweater softened the darkness and, as much as she was sick of wearing black, it felt dishonest to give it up completely. She caught the bags of greenery and red ribbons Karen tossed at her. "Operation Mistletoe is underway," Gia declared.
"I hope you have some creative ideas this year." Karen's green eyes glittered as she grabbed an armful of tinsel. "As soon as decorations are up, O'Connor will be searching for the mistletoe and how to avoid it."
"Or how to manipulate it."
"I'm totally okay with him manipulating mistletoe with me." Karen wiggled her auburn eyebrows. "I might even give Lisette some competition this season."
Gia shrugged. Ian was physically attractive—no one could deny that—but the only man she'd wanted in the last three years had been Joey.
Joey had been her everything.
Her breath caught and she squeezed the plastic bag of ribbons until the threat of tears faded. She cleared her throat. "Is that an inside tip that I should bet on you instead of Lisette?"
"Lisette has old age and treachery on her side. My lust and determination have nothing on her." Karen pursed her ruby-rouged lips and narrowed her eyes, going into accountant mode. Absently, she pulled the ever-present pencil from behind her ear. "But I'll give you two to one odds that Lisette corners Ian at least five times and he slides out of a kiss on three of them."
"How could you possibly keep track of that?" Gia pulled a velvet ribbon from the bag. "Do you have hidden cameras? Spies? An army of spiders who watch and spin their secrets to you at night?"
Karen sniffed. "I never reveal my sources. You know that."
Gia tied the ribbon around one sprig of mistletoe, grabbed the plastic container of red and green thumbtacks Karen had set on her desk and headed out of the door. "I know the perfect spot."
"Hold up, Glitter Girl." Karen cocked her hip, looking badass classy in her plaid skirt, forest-green V-neck sweater and black leather boots. With her short, spiked auburn hair and impish smile, she'd always reminded Gia of an overgrown fairy bent on mischief. She pointed at the doorway leading into Gia's office. "You forgot the most obvious location."
"I prefer to admire smooches from afar and refuse to be trapped in my office or forced to pay a kissing toll to go in or out." She arched an eyebrow at Karen. While she could probably play the grief card and escape, there were a couple of staff members who would absolutely take advantage of mistletoe hanging from her lintel.
"You're right." Karen scrunched her freckled nose. "But I was thinking more about me than you. O'Connor is always strolling by your office at random."
"He is?"
Karen cocked her head, her expression one of utter disbelief. "You seriously haven't noticed? How could you not notice all that male deliciousness? I'm worried about you, G."
While she appreciated the humor, all the reasons why she wouldn't notice another man remained on the tip of her tongue, unsaid. Because I was completely in love with Joey. Because Joey owned my heart. Because I had everything I wanted.
All her reasons were gone, buried forever.
But she was still alive and moping wouldn't change anything. She'd done enough of it in the last few months to know.
Gia whipped out her smile again. "If it gives you an advantage, my gambling pixie romantic, I'll take the risk."
Jumping up and down, Karen clapped her hands. "I'll get the ladder."
Half a minute later, Gia balanced on the top step of the short ladder. Not even her four-inch heels were enough to reach the upper ledge of the doorframe. She stretched up, a ribbon-laced sprig of mistletoe in one hand, a red tack in the other.
CONTINUE READING IN THE APP
Install App
Read novels from various genres