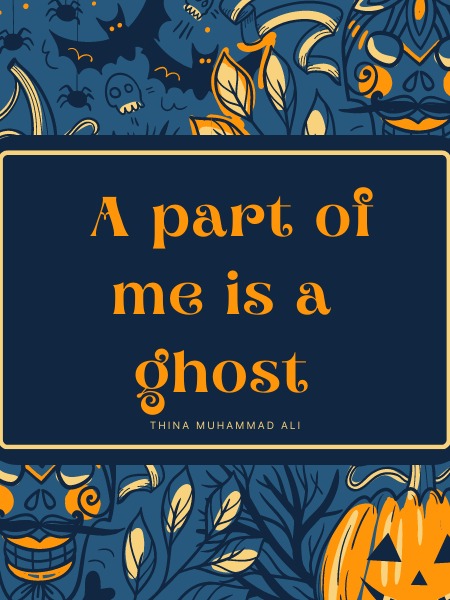 A part of me is a ghost
Thina

19.2K words
ongoing
16+
999
7.5
Love at first sight never dies and a born demon does have feelings too. A boy with his mysterious story leads the way to his own mysterious history. None is there to help him but he is brave enough to deal with his enemy all alone. Alright! Believes it or not but the one he found wasn't a human at all and he wants to know every inch of detail to take revenge on his enemy who is ghost but also his own real family. Every night they visits him and scared the hell out of him. Read more, if you wanna know what is the real deal over here.
Demon
Brave
Confident
Weak to Strong
Love at First Sight
Immortal
Superpowers
Family
Non-human
Suspense
Twisted
Magic
Fantasy
Chapter 1 The beginning
I see myself in a different world, in which I don't belong here. I saw the darkness and I could see the black shadows. I could see a hand dragging me toward the darkness but I didn't want to hold that hand. It's terrifying me, all I want is to stand and watch and be friends with them, as this darkness seems like an old friend except for that hand.
All of a sudden, I could hear a sweet voice calling out my name. I opened my eyes and saw my mother standing next to my bed, waking me up for school as I was already late. It was 6 a.m when I woke up and went to take a bath. After the bath, I went to the breakfast table to have breakfast with my family, but all I was thinking about was that dream. It was a peaceful, calm, and friendly place. I did feel like there was an old friend with whom I played, laughed, and cried. As I did breakfast, I went to my old routine which is writing updates about my dream and my friend from the dark. I mean, it is quite interesting people do have human friends or pets, but for me, it seems something special, as my mother said: "My son is like no one else because he is a special human being." So, as with my old routines, I take a notebook to write what I feel every day as it is a new place and new city and new school but still I can't believe why we did change our old house. There were so many memories, but now all I have is an old notebook filled with memories of it. But I took a new one to update or to fill this with new house memories and to build many more; so, the beginning, as always my intro is;
My name is Mattew, my friends and family called me Mat. I am a 15-year-old kid and you could say a shy one because I don't like to talk too much and I don't even have many friends except the one who is also known as a nerd like me. I don't call myself that, nor David. It is the nickname given by some punks at our school as they don't like either of us. I don't know why they do this. As we are good students and friends, yet they are jealous, maybe of our intelligence.
As Mat reached school, he met with his friend Dav (short for David). Both of them were talking when one of the punks came up to bully them,
" Oh, look, the nerds are together again, nerd 2 (Dav) did you finish my homework?"
"Yes, I did, but there is a test today, so you have to prepare yourself for that before the third period."
"So, what I don't care about, is that I have got nerds to help me out do this."
"Also nerd 1 (Mat) is quiet today, huh! What happened to mama's boy? What about the task I gave you yesterday? Did you do it or not? Or should I teach you how to do it, huh!?"
"As I told you before, Simon, and tell you again that I am not your slave nor your worker. So, stop pretending that I am or testing me, because once I get angry, then you'll regret it too, as I will too."
As he heard Mat, and not even a second passed, he punched Mat in his face and started beating him up with a group of his punks. Dav tried to hold the fight but he was dragged too by the punks. Mat reached to punch Simon too but he held himself again as it was a risky task, as once he got started he wouldn't be able to stop himself. So, Mat and Dav got beaten up by the punks and they got tied in the bathroom of the school with garbage on their heads. It was a humiliating moment for Mat but he was trying hard to control his anger as much as he could. It was lunchtime but still, both of them were tied up in the bathroom. One of the boys went to the bathroom. When he opened the door and found two boys tied up, he started laughing and calling his friends to make a video. All of his friends came and made videos of them. Dav was crying and Mat couldn't bear it anymore as he saw everyone laughing at them and his only friend was crying. He started screaming too and yelled "STOP IT", but that scream was not a normal scream. It made everyone disappear. The ones who were laughing and taking video of them except Dav as he paused for a while, but once they disappeared, he went unconscious. When Mat realized what he had done, he started calling for help and a guy came to help them. Once they got un-tied and Dav came to his senses, he found himself in the infirmary with Mat and he asked him,
"What happened, Mat? I was terrified once they locked us in the bathroom, but after that, I don't remember a thing. am I asleep?"
"Yes, you were. I tried to wake you up but you were in a deep sleep."
They reached their class and saw some of the students were not there. As the teacher came and asked about them, no one knew where they were and it was now more than two hours away, but the students were still not found. Mat was a bit worried too. He started thinking maybe something had happened, but what happened that he is unaware of it. That is strange. Both of them were in the bathroom and Dav was asleep but Mat. He was awake but still couldn't figure out what exactly happened to those kids. As it is now time to leave for home, every student's parents come to pick them up, but some parents are worried and yelling at the principal as it is his duty to take care of each student and the principal is yelling at the security as it was his only duty to keep an eye on the gate and take care of the kids. Mat thought it was better to go home rather than get involved in this because the more he thought, the more mysterious it might get and he didn't want to put the blame on him as it wasn't his fault after all. So, both of them started going towards their home as they were kind of neighbors and the school was also near to their houses. On their way home, Mat and Dav played and bought hotdogs, and fed the stray cats on the street. Dav's house came first, so he went and Mat's house, a bit away from Dav's house. So, he started walking alone to his house but he felt, like someone was with him, like he was not alone, as he is a brave kid, so he didn't get scared and started walking slowly.
He saw all of a sudden a plastic bag fly in the air like it wasn't windy at all, but he didn't react because of it. The bag started flowing with him on the way to his house. After a few minutes he heard a voice, a very low and girly voice:
"Do you want to play with me?"
CONTINUE READING IN THE APP
Install App
Read novels from various genres