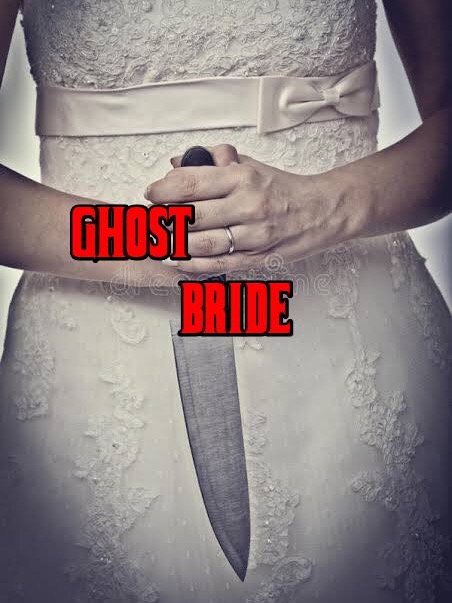 THE GHOST BRIDE
Monida

81.4K words
complete
18+
7515
7.5
Evelyn was killed on the day she was supposed to be married to her billionaire boss by her boss Ex. The marriage took place with her ghost in her lost sister's body which they all thought was dead. She came back to revenge her death only for her to unravel so many unknown and never heard secret about her death. She was surprised to find out that she had more than one enemy who plot her death, the shocking part of it was that her parents were involved in her death. Find out was Evelyn able to revenge her death?
Boss / CEO
Beauty
Possessive
Weak to Strong
Revenge
Betrayal
Superpowers
Non-human
Fated Love
Suspense
Tragedy
Twisted
Paranormal
Chapter 1
Evelyn stood looking at herself in the mirror, she was wearing a beautiful wedding dress and couldn't stop smiling at her self while friends comes to her dressed and they all embraces her .
"Let's go to the church I can't wait to be with my heartthrob" she says happily and her phone rings and she picks her cellphone on the dresser and she looks on the screen of the phone and it was My heart, that was the name she used in saving her husband to be on the screen and she picks the call
"Hello my heart" she says in a soft tone.
"Hello my Love" Manuel Stephens says to Evelyn.
Manuel Stephens is the billionaire heir of the Stephens Empire, he is the one in charge of all his fathers businesses, from Estate to importation and exportation of good and to crude oil companies all over the nation.
Manuel Stephens, a thirty seven years old man, the heir of his father's empire. He was once married to Brianna whom he picked up from the street, at first it was only about helping Brianna then before he married her but after their marriage he realized she wasn't what he thought she was but a pretender.
Manuel Stephens divorced Brianna because he realized she was never in love with him but in love with his money.
It took Manuel Stephens five years again before giving love a chance again.
At first it wasn't love at first sight with Manuel stephens and Evelyn, the love grew gradually between them and he decided to take it to the next level with her.
Evelyn is just a girl from an average home , her parents were able to afford the education of she and her siblings and put three square meals on the table.
Her parent has no savings but are able to sort out their bills. Evelyn has always been loved by most people since she was young and she is also an intelligent girl.
Evelyn and Manuel Stephens met at one of the Stephens company where she was doing her internship, there was this construction of one of their new estate that they were about to began which she was present and when modification was asked by their clients for the design of the construction because the designs the creative designer of the company showcase to the clients were too common , Evelyn was the one who came up with another brilliant idea at first Manuel didn't find the style she created fascinating but when no one was going to bring up a fresh idea they decided to let the architect work on Evelyn idea and when it was shown to their clients they love it and that was when Manuel took interest in her and he asked her transfer to his branch which is the headquarter and he made her his P.A and before they knew it before one year they became madly in love despite the age gap between them.
PRESENT DAY
Manuel Stephens and Evelyn finishes talking on the phone and she turns to her friend. Her chief-brides maid.
"It's time to go, Manuel and his friends are already waiting at the church for us, we can't be late to the church, we shouldn't keep my husband waiting" she says smiling and she picks up her iphone and she began to take selfie of herself .
Her chief bridesmaid came to her . "Evelyn, I just got a call that the service is about to begin at the church, " her chief bridesmaid says while the cameraman and photographer was already waiting at her doorstep as she steps out of the room in her wedding gown and her mom and dad were waiting for her at the sitting room and when she walks to the sitting room and her mother embraces her and her Dad also embraces her and her siblings also embraces her.
She walks to the car waiting to take her to the church and her chief brides maids wanted to enter and sit beside the bride.
"I am sorry ma'am, it is only the bride Miss Evelyn that is allowed to sit in this car, maybe you should join the other brides maid" the driver says and evelyn was surprised.
"what do you mean by she alone is supposed to be sitting the car ? when I am her chief bridesmaid, I should be assisting her" the chief brides maid protest.
"I am sorry ma'am ,this is an order from my boss" he says.
"Lily, I am so sorry about all of this I didn't know about this arrangement before , if I knew before I would have talked to Manuel but I can't anymore, I am so sorry for all of this, please for my sake and the sake of my big day please let's do as he says, it dosen't change the fact that we are still best friends forever" Evelyn says smiling at her while her mom came to them.
"Is everything alright? Evelyn mom turns to Lily. " Why are you not inside the car beside your friend? You both should be at the church right now, I just got a call from the co ordinator of the wedding that the service is about to begin" her mom says.
"Nothing serious mom, the arrangement is kind of slight different from what we thought but we have it sort out already" she says.
"Alright" her mom left them while Lily goes to join the bridesmaids while the driver drove off and as the driver drives he flashes back to his meeting with Brianna three days wedding.
Flash back.
A week ago.
The driver was inside the car in Stephens company headquarter playing game when a call came on his phone.
"Who is this about to ruin my interesting game?" he says before picking the call. "Hello" a beautiful voice and sexy voice says over the voice and he quickly sits up hearing the voice.
"Maa…..aadam" he says stammering on the phone while Brianna who is in a luxury apartment, a condo's dressed in a long side slit gown with a glass of wine in her hand with a cellphone to her ear smiles hearing him stammering.
"How are you? She asks him.
"I am fine ma" he replied.
"Where are you? She asked.
"At the Stephens ma" he says.
"Oh, you took Manuel to work, am I right? She asks.
"Yes ma" he replied.
"Can we meet , I have a job for you and you are going to cash out huge on this job" she says.
"A job? Are you saying the job pays more than how much my boss pays us ? he asks.
"Even more than the bonuses you get from him" she says.
" Alright ma, I will come" he says happily but one thing is I don't know where you stay ma" he says.
"Let's meet at the oriental hotel to discuss the job" she says and she goes to sit on the couch.
"Ori..en…tal hotel," He calls the name of the hotel out one by one. An hotel? He asked surprisingly.
"Yeah" and she paused and she thinks and laughs out loud. "Come-on, it's not what you are thinking about, I won't even stoop low to that level, everything we are going to discuss is all about the job" she says.
"alright ma, I will be there soon" the security man says and Brianna hangs the call
CONTINUE READING IN THE APP
Install App
Read novels from various genres