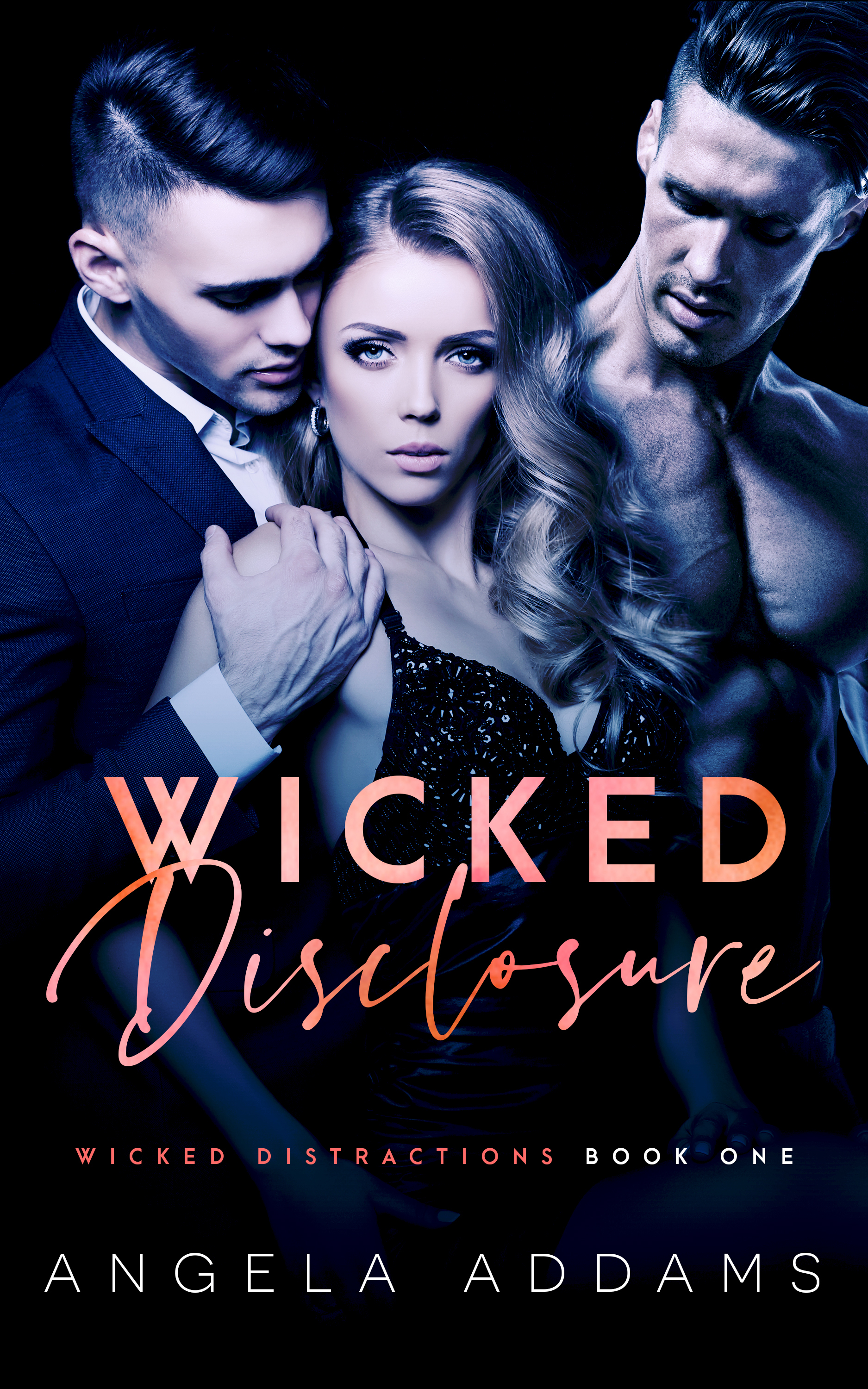 Wicked Disclosure
Angela Addams

51.1K words
complete
18+
14676
8.8
Trent Brooks is young, hungry and on his way to the top as a newly appointed Lead Communications Officer at Morgan and Miller, a conglomerate of family brands. After the death of the company's CFO, Trent is dispatched to navigate a delicate situation involving the deceased executive and an escort agency known as Kitty Calls. Sabine Cowan is the take-no-prisoners owner of Kitty Calls, who has no use for men other than for her business and her personal pleasure. When Trent presents her with the confidentiality agreement, she dismisses it. But instead of dismissing him, she decides he may be just the type of fun she's been hungry for. When compromising photos of Sabine and Trent together are leaked to the media, both of their worlds explode, just in very different ways. Sabine is used to being painted as a sexual deviant. Trent, not so much. With his reputation and his career hanging in the balance, he's determined to figure out who's behind the leak. Screwing Sabine Cowan is every man's wet dream, including Trent's. Falling in love with her, however, is not what he bargained for. Exploring the depth of their passion in whatever way she wants could destroy him completely, but his quest for the truth may be something worth dying for.
Businessman
Good Girl
Counterattack
Multiple Partners
Revenge
Love Triangle
Fated Love
Office
Erotic
Dramatic
Romance
Chapter 1
"Someone will see us," Trent breathed out the words, half a moan, as Sabine opened his pants.
"Yeah, maybe." She licked her lips, her hand on his cock making him jolt. "But no one will talk about it."
He opened his lips to mutter some other stupid shit then closed them again. Sabine licked him from balls to crown and he thought he was going to come from that alone. He tilted his head back, groaning when she sucked him, slowly gliding her lips over his shaft, swirling and flicking her tongue before easing his dick in. She pumped him, taking him past the gate of her throat, fucking him with her entire mouth. His brain misfired, thoughts fading to nothing but electric impulses of pleasure. She gently massaged his balls with her fingers, her moan vibrating along his cock. Everything coiled—his gut, his sac—ready to blow.
She slid his dick out of her mouth, slowly, pressing her tongue hard against his shaft, lingering to give him another couple of flicks just under the ridge of his crown. He sucked in a deep breath and looked down at her, her lips glistening and a wicked smile greeting him. His body uncoiled, pulling him back from the edge enough that he could think again. It would have been some embarrassing shit if he'd lost his load so quickly.
"I probably shouldn't be doing this. Conflict of interest," he said, then chastised himself. Shut up, you stupid fucker. Shut up, shut up, shut up! There was Sabine Cowan, CEO of an escort empire, heiress to a multi-corporation legacy and notoriously hot bad girl, on her knees with her lips…oh fuck…her lips wrapped around his… "Fuck!"
She popped her mouth off him again, the suction making him want to follow her, his dick bobbing, begging for more. "You're not working tonight," she said. She sat back on her heels and slid her hand up his chest, pushing him to sit down in his chair. "I wouldn't have invited you to my party if I thought you were on the clock."
"Why am I here, then?" His brain was exploding, lust driving his every thought. He watched her lips move, her tongue darting to lick the corner of her mouth.
"Well…"
She moved between his legs, pushing against his thighs, nipples popping like they'd explode out of her low-cut dress. He wished they would. He kept his hands gripped to the arms of his chair, not trusting himself to move and break the lusty spell she was weaving.
"You're here to see how I keep secrets, aren't you?"
"I'm here to get you to sign a confidentiality agreement." He nearly choked on those words. Could that be any more of a buzz kill? She'd refused to sign the agreement at their meeting earlier, scoffing at idle threats made on behalf of his boss.
She smiled, batting her lashes. "Well, I guess you're just going to have to convince me then, aren't you?" She took his balls into her palm, stroking one then the other. "You wanna fuck me, messenger boy?"
"Yeah," he croaked. Screw the confidentiality agreement.
She released him, pushing on his thighs to stand, her hand out to help him up. In a daze he took her offer, standing on wobbly legs, dick rock hard, leading the way.
"You might want to tuck that bad boy back in." Sabine chuckled. "We've gotta walk through a few crowds to get upstairs."
Confused, Trent glanced down, realizing in a daze what she was saying. He pushed his aching dick back into his pants and zipped up. He'd had blow jobs in his life. Many. But he'd never had one like that. It seemed as if Sabine had enjoyed it just as much as he had. Maybe he'd just gotten so used to his mundane sex life that he'd forgotten how good things could be. Either way, he wasn't going to put the brakes on this. He couldn't. This was a fantasy-in-the-making of epic proportions. And he believed Sabine when she said that discretion was a guarantee. Off the clock or not, he knew his boss would not be happy to hear that Trent had not only partied with the enemy but fucked her too.
And that potentially sobering thought—the risk of blowing everything he'd worked his ass off to achieve, a corner office as Morgan and Miller Limited's newest lead communications officer, a stellar and solid reputation for innovative promotional campaigns and the bank account to show for it—still wasn't enough to derail his lust.
The temptation was just too great.
Sabine had been a socialite first—a wealthy heiress who'd attracted the media spotlight for not only her stunning looks but also her outrageous behavior. Drugs, parties, sex tapes… She'd done it all. Done it and reveled in it. Her celebrity status alone made her a trophy bang, but add to that her smoking-hot body—voluptuous and plump in all the right places—combined with her I'm-gonna-fuck-your-brains-out aggression and Trent was a goner.
Sabine took him up the grand staircase, leading him, walking just a little ahead so he felt like her hand in his was more like a leash, guiding him in the right direction. Adam, her very watchful bodyguard, was standing a few steps up, flicking his gaze from Trent to Sabine, his frown firmly in place. Sabine paused long enough so she could lean in and say something quietly to the giant brute. Adam gave a tight nod, shifting to look straight ahead, like Trent didn't exist. With another sly smile over her shoulder at Trent, Sabine continued up. His dick was literally weeping for her.
There was another staircase leading to the next floor, probably where the master suite was, but Sabine didn't continue upward. Instead, she took him down the hall, wall sconces lighting their way. It was quieter up here, the sound of murmured voices from the many conversations muffled as they moved higher and deeper into the house.
The room she led him to was bigger than his hotel room, even bigger than his condo. But there was nothing suggesting a touch of Sabine, nothing that made him think she'd invited him into her own bedroom, her sanctuary. He didn't know why that bothered him. Why it would matter that she wanted to fuck in a generic room?
CONTINUE READING IN THE APP
Install App
Read novels from various genres