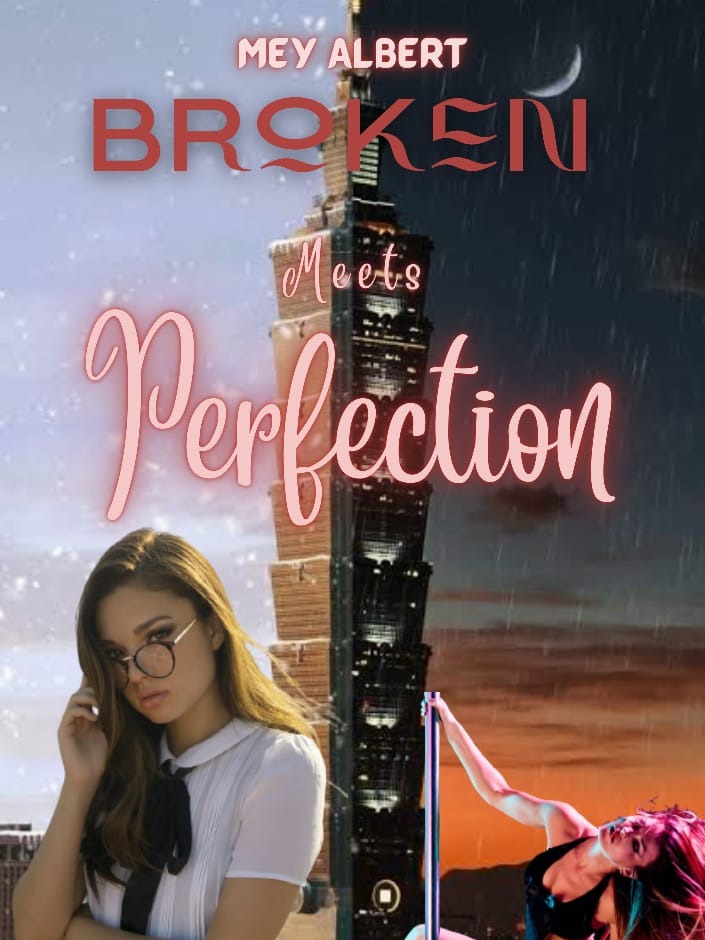 Broken Meets Perfection
Mey Albert

16.5K words
ongoing
18+
2
7.5
A young woman broken by an unforgettable event in her life is forced to tread a dangerous path in her quest for revenge. She is fortunate to find friendship and love in the least expected place. Together, they strive to protect themselves from the secrets and betrayals that haunt their pasts. In this journey, you will learn that nothing is ever as it seems in the world of wealth and power. Join two broken souls that are masked with perfection in the eyes of the world as they struggle to stay afloat their life traumas. Remember in this world betrayal is inevitable.
Boss / CEO
Billionaire
Beauty
Betrayal
Revenge
Powerful Couple
Campus
Family
Fated Love
Suspense
Tragedy
Serious
Romance
Chapter 1
Lust, that's what I saw in the eyes of the men beneath me, just as it has been for the past four years.


I take a spin on the pole before sliding down gently,my eyes scan the crowd for the best man. It lands on a middle age man,he was money and you always know from their pose.


They never try to stand out, no flashy clothes ,shoes and watches but you always know whatever they put on is customized.

Still locking our gaze,I work my way around the pole sensually like a goddess earning the admiration and lust of everyman watching me.


By the time I'm done and the room is filled with the applause and cheers of the men,our gaze is still locked.

Making my way off the stage,the smile I have been hiding becomes visible as I know he will be back next Friday and every other one for probably the next few months.

Uncle D didn't make a mistake naming me the pole goddess.

"Babes,Omo you kill that dance" Didi screamed dramatically making her way towards me.


"Madam, isn't today your day off" I ignored the glares from the other girls dragging Diddy my only friend aside.


"It is but na special customer ask for me ,and you know say I no fit allow that money pass me. As management just call ,I decided to come".


I smiled she was improving grammatically, she would never pass on an opportunity to earn and I honestly couldn't blame or judge her.


"How is she ,did you get the drugs?" . "Yes,she is better".

"That's good,l need to head into the house, got school work".


After my brief goodbye with Didi ,I made my way to the back of the club which our house was located.



I had already changed my outfit at the club,and just needed a quick shower and dinner. The water hits me and I finally break down, exhausted from the life I was living.


This wasn't living life, this was just me floating every single day.

I hate this life, so many times I have thought of ending it but I can't because of him .

I must survive like i promised him,the charades and fake smile will soon come to an end.


I will find a way out of this lifestyle like the fighter I am .


" What time do your lectures end today" uncle D asked barely throwing me a glance. "6pm sir" I mumures softly. "Hmm,get back as soon as you can.


You put on a good show yesterday but you must do better next Friday, I don't like this your school idea.

What can someone like you possibly learn, anyways I won't let you're schooling be an hindrance to me making money." .He pauses to read my face "What? Why are you so ungrateful,I accommodate ,feed and clothe you .


What do I ask from you other than working? Or do you want me to give you to all your bidders? You're just as useless as he was.



This time around I speak back,he wasn't useless.

"Oh so you have grown wings, even under my roof you talk back at me.

If you ever talk back at me ,it won't just be stripping anymore. Nonsense girl. my friend, will you get out of my sight.

I obey , noticing the shadow at the door slip away. Uncle D does too.





Six years ago

" Emma remember no matter how big the storm is ,it will always pass away and peace will follow". I nod understandably and he smiles. "That's my girl".





Present

That's my consolation.All these years has been a storm, even when mama left us .


It was still a storm that passed by ,so soon this present storm shall all so pass away. "Hey Emma watsup" ,"Hi Cassie,I'm good" .



Cassie was also from the club, she is a waitress there and we barely said a few words to each other until a few weeks ago when we both resumed school.


Reasons are I mostly kept to myself .


"What class do you have now?" She asked with a beautiful smile .


"Ummh,Gst 111" I groaned , she chuckled" same as I and I definitely hate that class too ".


"Maybe we should skip the class,I don't want to listen to another boring Gst lecture " I rolled my eyes ,I would definitely not understand why English classes were always so boring .



She chuckled loudly at my tantrums.


"You're funny Emma, you should often show this side of you . Come let's hurry before all the back seats are occupied" .


That cracked us both, probably almost everyone hated English classes but attended anyways for the sake of attendance.

"Why International relations? " ."Why Law? " I fired back . She laughed,a constant habit of hers, "I like the way they speak .


Just kidding,I have always wanted to be a lawyer since I was a child just like my Grandfather".


I wanted to ask how she ended up being a waitress at a club with a lawyer for a Grandfather but kicked against it.


"You?" She asked.


I heaved a smile "I don't really know, I just loved the name."

We both giggle at that.

" You're really smart you know, these days scholarships are hard to get because the exams are so difficult but you did."she spoke


" I guess so,I just studied really hard for it." I honestly replied as much as I could.

The day goes by in a flash and I bury myself in housework and studying for test.

It's not Friday so I don't necessarily have to go to the club, Uncle D only makes me dance on Friday as a specialty for the night.


I usually dance in the room with the really wealthy people ,I mean the pillars of the luxurious society.



The higher the money he makes from me dancing,the better I get treated.



Soon the knock I was expecting comes. " You're late".


"Sorry" Didi replied remorsefully .


"Alright let's begin" .


It didn't take long for us to be buried in lectures like we have been doing for the past months.



Didi was a fast learner and very Soon her English will be nothing short of perfection.


I just wished I had done this earlier ,but well like they say better late than never.

"How is everyone?" . I enquired


"Hmm we dey. They are good" .she corrected herself immediately



Didi was the definition of black beauty and it was quite sad that at such a young age of twenty,she carried a huge weight around.


A drunk of a father had given her out, immediately she finished primary school.


The so-called aunty had promised to sponsor her education.



An excited Didi would soon find out that not all that Glitters is goly. She was abused and treated like a slave, schooling had become a distant dream and everyday was a struggle to live .



She was just a little girl far away from home with no idea of finding her way back.


But that was just the genesis if her woes as what was to come was even greater.

One day, her guardians husband raped a fourteen year old Didi .



If Didi had fought all those years,then the night she was raped must have been her breaking point.

Offcourse her madam knew because despite all the threatening from her madam's husband ,she still went ahead to tell her woes to the woman her useless father had entrusted get to.




The woman had been less concerned for her marriage was already a wierd one,later on she would find out that while her oga went after little girls ,her own madam spent her money in sugar boys.

Didi being the fighter she was ,
,decided that she had had enough,ran away with the help of the security man.


A fourteen year old girl in the streets of the big city that she didn't know,she also didn't know her way home as she was still really young when her madam brought her .

For weeks she roamed the streets eating whatever she begged for until she met fumi.



Fumi was a street hustler and she taught Didi the only way she knew how to survive "stripping" .




So from a young age of fifteen,Didi started stripping to and it wasn't a problem because she was one of those girls that their body developed quickly.



She was fifteen but looked three years older.


She hated the job but for a girl with no skill and shelter she had no choice but to follow the footsteps of the person who emancipated her from the streets.






CONTINUE READING IN THE APP
Install App
Read novels from various genres