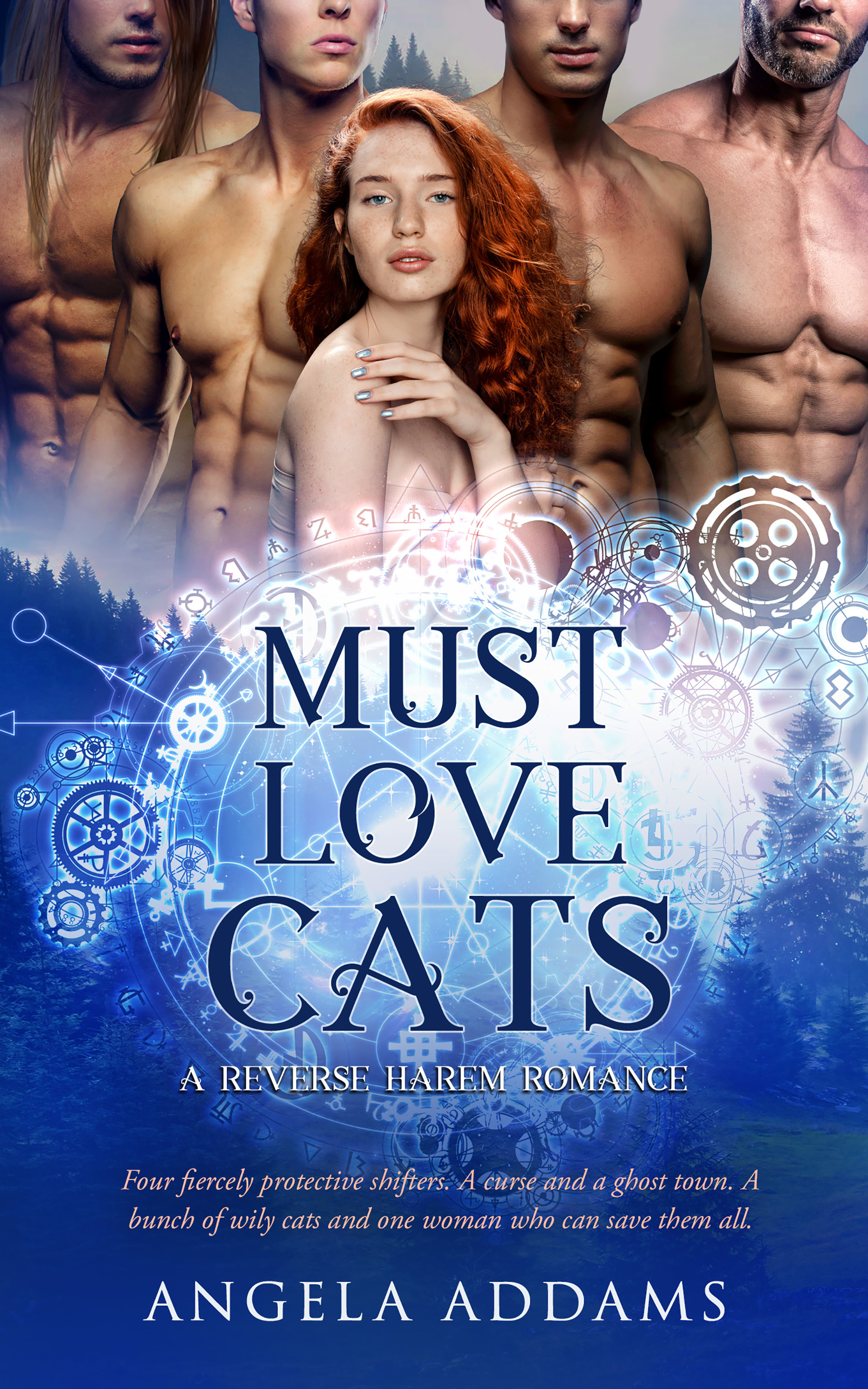 Must Love Cats
Angela Addams

68.1K words
complete
18+
14283
9.1
Four fiercely protective shifters. A curse and a ghost town. A bunch of wily cats and one woman who can save them all. Lucki Collins has landed the job of a lifetime—Cat Keeper of Lady Clover's Cat House in Weeping Falls, Alaska. Lucki discovers early on that Weeping Falls is cursed and that the cats she's there to care for are the townspeople, who must abide by the cycle of the sun and moon — taking cat form during the day and human form at night. They are magical creatures known as 'familiars', who can enhance the powers of a witch considerably, the very thing that puts them in danger. Lucki meets her protectors—Reuben, a bear shifter, Wren, a wolf shifter, Ben, a hawk shifter, and Julian, a lion shifter—who must not only keep her and the cats safe, but also somehow convince her to bond with them. Their magical bond is the only thing that will give Lucki control over her powers, which are necessary to defeat Angelica, a sorceress who wants to capture all the cats and use them for her evil goals. Lucki hasn't had the best experience with love, but rather than leave the men hopeless, she offers to help them break the curse by another means. Things don't go according to plan, and Lucki is left with the challenge of overcoming her past and setting aside her fears. If she can believe in herself and put her faith in love once again, she might just be able to triumph over evil and save the people she has come to deeply care about in Weeping Falls.
Werewolf
Multiple Partners
Shapeshifters
Reverse Harem
Mystery
Erotic
Twisted
Paranormal
Chapter 1
Lucki
Cat Keeper of Weeping Falls. It sounds like a joke, right? Cat Keeper… What the hell kind of job is that?
"The best job in the mothereff"—burp—"ing world!" Lucki Collins raised her almost empty pint of beer and cheered the crowd of rowdy townspeople who were seated all around her. The burn of too much booze heated her cheeks, and the ache from so much laughing had her cradling her side. She was being treated like a queen and didn't care if she was making an ass of herself.
"Cheers to our new Cat Keeper. May your time here be ever filled with joy." Mr. Rose an elderly man with a bright red nose and long white whiskers, raised his glass, which was filled with…milk. It was the only thing he'd been drinking all night.
Lucki figured it had to be mixed with bourbon or something. The man was way too cheerful to be sober. They're all way too cheerful. The entire town of Weeping Falls, a population of a hundred at most, had welcomed her with open arms the second she'd cleared the town line—and hadn't stopped welcoming her.
"To our blessed Cat Keeper!" Everyone cheered, raising their glasses, thumping on the tables, laughing, singing.
They were in the tavern, a throwback to the old West, complete with its swinging doors and long curved bar, plank wood floors that were scuffed and dented and an old-time piano that one of the residents had been playing since Lucki had gotten there. Everyone was dressed in the fashion of the time too—from the cowboy hats to the heel spurs, corsets and billowing skirts. Lucki truly felt like she'd stepped into the olden days—and she loved it.
Weeping Falls had been an actual mining town back in the day. Now it was barely hanging on as a ghost town tourist attraction—the Wild West in Alaska. There wasn't much in the way of bookings, from what she'd gathered. The only visitor was her, and she was soon to be a resident too. She'd be Lady Clover's Cat Keeper, responsible for tending to a massive cat colony who'd been bequeathed a mansion and a trust fund and who called Weeping Falls home.
When she'd been offered the job, she'd thought she'd heard wrong.
"Cat keeper? What kind of job is that?"
Scout, the man who'd found her, had answered her simply and honestly. "We can't afford a trained vet to come. You have almost all the requirements and a lot of experience working with animals. You'll do."
Lucki had been working at shelters her whole life. Always a tender heart around those injured or in need of love, she'd solely manned a cat sanctuary in her hometown until a fire had taken out the entire colony the past summer. It had nearly destroyed her heart to lose all those precious lives.
Scout had come knocking on her door one morning, claiming he'd heard about her compassion toward the felines and had wanted to offer her a new job as Cat Keeper for Lady Clover's Cat House in Weeping Falls, Alaska.
It had seemed like a good idea at the time—a windfall, actually. Everyone knew she was destined to be a crazy cat lady anyway, and now she was going to be paid to fulfill that dream. It sounded pretty freakin' perfect to her.
Besides, she had another reason to leave home—a big, six-foot-two, built-like-a-brick-house reason whom she wanted no reminder of ever again. He'd be in jail for another year at least, and by the time he got out, he'd find no trace of her. That gave her some measure of peace.
Her heart had been crushed, battered and beaten enough over the last ten years. She needed this escape, and Scout's offer had come at the perfect moment. Time would heal all wounds—or so she'd heard—but cuddling with a bunch of cats would make that time sweeter.
And there hadn't been a moment of regret—not one. She'd spent more than a day on the road with only a brief stop to rest, travelling all the way from her hometown in northern British Columbia.
It was a long way to come for a bunch of cats.
Best decision ever!
She downed what was left of her beer then snorted in the most unladylike way when another full pint slid in front of her.
"Oh boy, no way!" She laughed. "You people are going to get me totally wasted."
"Aww, lass, no harm," Andy Crawlie drawled. "We're just happy yer finally here. We've been waitin' on ya fer a vera long time."
That had been what it had been like the entire night. They'd fed her delicious food until she was stuffed, then they'd started pouring the beer, keeping her glass full while they sang and laughed and told stories. There were enough people in the tavern that she lost track of all the names and keeping everyone straight. But she had plenty of time to learn them.
Lucki giggled but pushed the glass away. "Thank you for all your generosity, everyone." She had to raise her voice to be heard over the music playing. "I think I should head back to Lady Clover's, though. It's late… Wait! How late is it?" Her phone had stopped working at some point during the night. She imagined that cell service was spotty at best around here anyway. She made a mental note to ask someone about it in the morning when her thoughts were clearer.
"Oh, it's hardly after midnight, dear," Sandy Evernight said as she picked up Lucki's beer and took a sip for herself. "But if you must go, we'll send you with an escort, to make sure you get back to the house in one piece."
"An escort?" Lucki pushed her chair back. The wood feet thudded across the floor, giving Lucki a bit of a fight to stand.
"It's always a good idea around here." Sandy shrugged, her cheeks bright. She had a glint in her eyes that made Lucki question if there was a punchline coming. "'Cause of the wild animals and such."
"Wild animals?" Lucki frowned, her good mood taken down a notch. Not a joke, then. Right, because you're in the middle of freakin' Alaska! Spring is coming. Of course there are animals roaming around.
CONTINUE READING IN THE APP
Install App
Read novels from various genres
You will also like